Our Solution reaches all actors involved in the transit industry. It is scalable in size and in feature sets. It is currently running in systems with single-digit vehicles and others with a few thousands. Features-wise, some systems run a basic backend system while others run the full suite with control centre applications, operator assistance display, passenger information displays, next stop announcement, customer support, passenger counter and so forth.
The Solution is currently running on buses, light-rail, tramways and ferries, sometimes all in the same transit system.
Electrical Vehicles & Charging Stations
Keep an eye on your vehicles' State of Charge, get warnings whenever they are approaching problematic levels in comparison to their remaining route, know within seconds the status of your charging stations and their availability.
Driver Assistance
Facilitate the driver's daily tasks by managing signage, passenger information, providing real-time updates on their timetable adherence, their location along their route, connections with other vehicles, as well as driver coaching to improve their performance.
Consat technology for a smoother tomorrow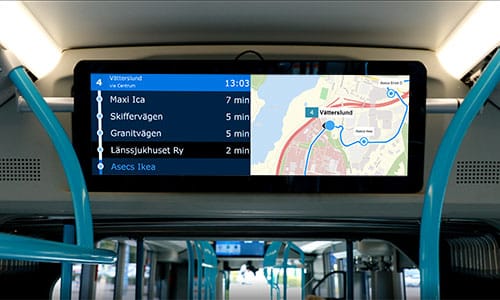 On-board Announcements
Data-driven system providing automatic next-stop announcements, signage control, real-time passenger information along their trip with connecting lines, forecasts and alerts.
CAD/AVL
Multiple monitoring tools for timetable adherences, vehicle status, headway, state of charge, remaining range, configurable alerts for issues requiring a controller's attention, dispatching assistance with reinforcing and overtaking vehicles, and much more.
Fleet Management
Manage your vehicles more efficiently with access to your fleet's chassis and body signals, and improve your routines by integrating your maintenance system to the provided data.
Passenger Information
Real-time Passenger Information (RTPI) at stop points, on-board, via apps, websites and social medias, with real-time forecasts, trip information, transit alerts and other relevant information.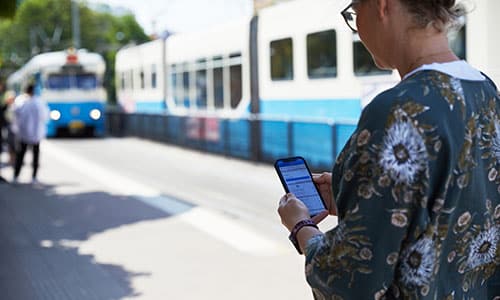 Open Platform
Our Solution is designed to be transparent and support open standard. You own the data, we provide the APIs and protocols. We are fully ITxPT-certified. SIRI, GTFS and NeTEx are among the standards we currently support.
Communication
Facilitate the communication between drivers and traffic controllers with voice communication (Push-to-Talk), text messages and traffic alerts in the same tools that they already use. Our Solution supports both Tetra and cellular networks, with no additional SIM card required.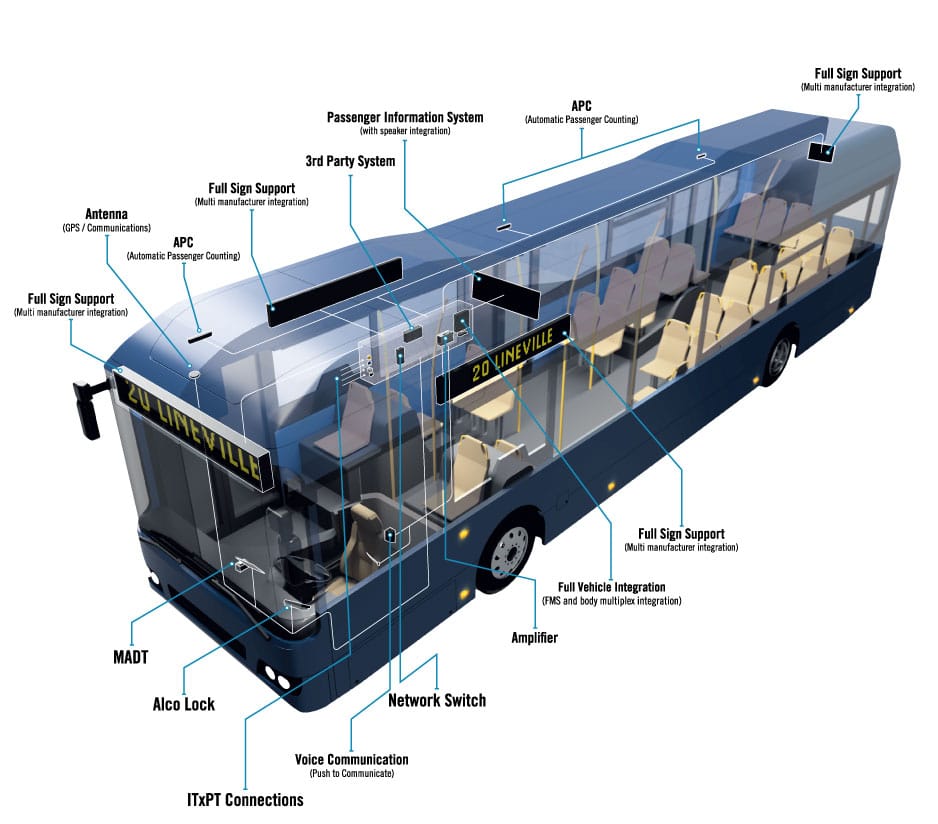 Automatic Passenger Counting (APC)
Know how many passengers are on-board your vehicles so you can manage occupancy in real-time. Reinforce trips and lines; inform passengers through all communication channels, e.g., destination sign (Full bus) and at-stop displays (occupancy levels); and adjust connections between vehicles, with information based on passenger counting data. All APC data is available through built-in reports.
Statistics & Data Analysis
A full suite of reports covering a broad spectrum of data, such as timetable adherence, passenger counting, driving times, headway, dispatch performance, and almost everything in-between. We also have real-time dashboards for KPIs.